ISDN Network Termination Unit (NT1)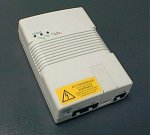 C10 Communications NT1 (Part Number 1078426) is a Network Termination device to be used at the customer premises of Integrated Services Digital Network subscriber.
It has a U interface in the form of an RJ45 connector, terminating the subscriber line, and an S/T interface, in the form of two RJ45 connectors, where the ISDN CPE is connected.
It also has provision for connecting a 40VDC plug pack if more than one ISDN CPE is used, but in most cases the NT1 is supplied without the optional plug pack and uses the line power to operate.
Apart from the RJ45 connector, the U interface can be also connected via a 2-way terminal block, accessible by removing a cover. By removing the cover, a 5-way DIP switch also becomes accessible, for various strapping options.
The unit has 4 rubber feet for desk mounting, but there is also provision for wall mounting.
The C10 Communications NT1 complies with the relevant ETSI ISDN standards from operational and inter-working point of view, as well as the safety and electromagnetic emission regulatory standards:
Telstra Specifications:
International Standards:
ETR 080
ETS 300 012
ETS 300 047
ITU-T I.430
ITU-T K.41
IEC/CISPR 22
Australian Standards:
Brochure