ISDN Network Termination Unit (NT1)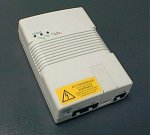 C10 Communications NT1 (Part Number 1078426) is a Network Termination device to be used at the customer premises of Integrated Services Digital Network subscriber.
The C10 Communications NT1 complies with the relevant ETSI ISDN standards from operational and inter-working point of view, as well as the safety and electromagnetic emission regulatory standards.
C10 4-wire ISDN Terminal Adapter

C10 4-wire ISDN Terminal Adapter is a terminal adapter for basic rate ISDN lines, providing two simultaneous telephony (3.1 kHz audio) communication channels between any 2 ISDN services.
It can be configured to operate in 2 wire mode (as a normal telephone service) or in 4 wire mode, with separate send and receive path.
The main feature is automatic or manual dial or answer with automatic change over to 4 wire mode.
The main application is broadcasting from remote places when the remote unit is automatically called and setup from the studio.