ADSL Filter/Splitter - C10245M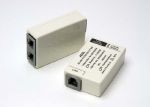 The Model C10245M are distributed Filter/Splitters for use with each item of Customer Equipment (CE) connected on a PSTN Line that has an overlay ADSL service. Its purpose is to attenuate the ADSL signal before reaching the PSTN connected CE.
C10245M is designed to work well (Noisefree) with ADSL, ADSL 2 and ADSL 2+ services.
C10245M Brochure
C10245M Installation Guide